Read the original posting at Latino Rebels HERE
In observance of Women's History Month, LatinoRebels.com is celebrating Latinas who are making a difference every day. Today, as a part of National Farmworker Awareness week, we honor some of the women who are leading the migrant women's rights movement.
Farmworker women put food on our tables.  They plant, pick, and pack fruits and vegetables, among other crops and plants.  It is estimated that more than 600,000 women are responsible for feeding us. These women are often subject to poor and unsafe working conditions. They are often victims of wage theft, gender discrimination, including sexual harassment, and a range of other problems.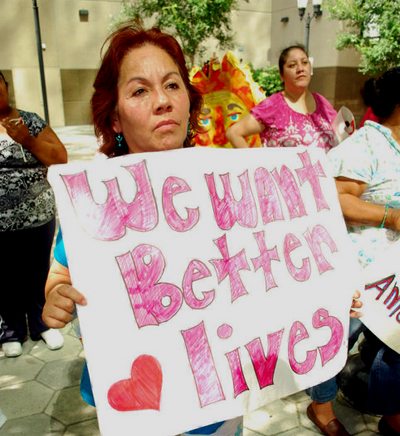 Often, a one-size-fits-all approach has been applied to efforts to improve conditions for farmworkers, with little attention paid to the unique issues that confront farmworker women as women workers.  However, farmworker women and their advocates have fought to ensure that farmworker women's concerns are not ignored.  These women are strong, brave and they aremaking a difference for the benefit of many. In addition to Dolores Huerta, recognized in a previous Women's History Month blog, below is a list of a few women who are making a difference in the fight for farmworker women's rights:
Olivia Tamayo is the first farmworker women in the history of the United States to have a federal jury decide her case for sexual harassment against a major agricultural company.Tamayo sued Harris farms for failing to protect her from sexual harassment by her supervisor and for failing to remedy the problem once they became aware of it.  Tamayo prevailed in her lawsuit against the company, along with the related appeal. Tamayo is a role model to thousands of farmworker women throughout the United States.  She has also provided many advocates with her advice and expertise.  She has been lauded and honored for her courage to seek justice for the sexual harassment against her and for encouraging other women to come forward.  Among these, Southern Poverty Law Center presented her with the Esperanza Award in 2006.
Mily Treviño-Sauceda is the co-founder of the Alianza Nacional de Campesinas, the first national farmworker women's organization.  She is also the co-founder and the former Executive Director of Organización en California de Líderes Campesinas, Inc., known as"Líderes Campesinas." As a former farmworker, Trevino-Sauceda has firsthand experience regarding the issues confronting farmworkers.  She has been very vocal about gender discrimination, wage theft, health risks and immigration reform. Treviño-Sauceda has worked on the local, state, national and international levels to ensure that farmworker women's issues are included in the workers' rights and women's rights discourse. She has received numerous awards and recognitions for her work, including being recognized as one of the "100 Heroines of the World" and the Ford Foundation and New York University Leadership for Changing the World Award, among others.
Marcela Olvera-Morales is the first woman to challenge gender discrimination in the H-2 guestworker visa programs on the basis of gender segregation in the case Olvera-Morales, et al vs. Sterling Onions, Inc. et al. Olvera-Morales filed her lawsuit on behalf of herself and other similarly situated guestworker women against the defendant employment agencies and employers for deliberately steered her and other women into lower paying jobs with fewer benefits. According to the lawsuit, Olvera-Morales and other women were able and willing to perform the higher paying jobs but those jobs were reserved for men.  The overwhelming majority of work-based visas are awarded to men and women are commonly steered into less desirable positions with fewer benefits in the work-visa programs.  The parties reached anundisclosed settlement to resolve this matter.
Kimber Nicoletti is the Director and Founder of Multicultural Efforts to end Sexual Assault(MESA) at Purdue University.  She has been an advocate for migrant farmworker communities for over 20 years.  Nicoletti works at the national, state and local level engaging communities and organizations in the use of culturally relevant models for promoting healing, healthy relationships and preventing sexual violence. She was the first anti-sexual violence advocate in the United States to specifically focus on sexual violence prevention within the farmworker community. Nicoletti also created and moderates the Mujeres del Movimiento group which is a designated safe space for support and resource sharing for Latinas who work in violence prevention.  She was selected as the 2013 Woman of Distinction by the YWCA for her work with the farm worker community.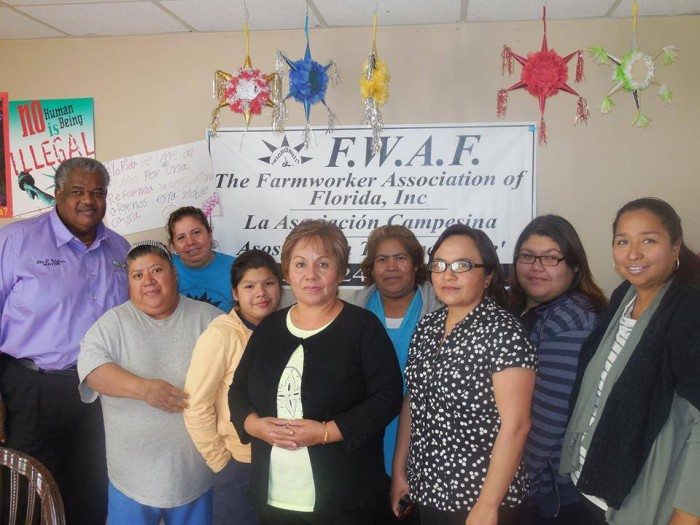 Elvira Carvajal is a migrant rights activist and leader in South Florida.  She was raised on her family's farm, alongside her six brothers and sisters, in Michoacán, Mexico.  Carvajal migrated to the United States at the age of 19, where she began to work on lemon farms and nurseries. She worked in the Florida agricultural industry for 20 years until she decided to learn English and get her high school diploma to better support her three children.  Carvajal graduated from high school in 1998 and made the decision to dedicate her life to improving the lives of migrant families and children.  She has served as a leader within the Farmworker Association of Florida since 2006.  Carvajal provides migrant women workers with information about their rights. She trains workers on pesticides safety and she has been an active voice and leader in the immigration reform debate.